27 Sep 2015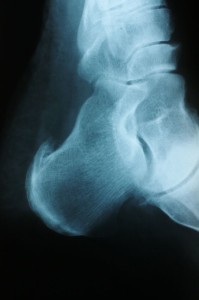 Overview
A heel spur occurs when calcium deposits build up on the underside of the heel bone. The abnormal calcium deposits form when the plantar fascia pulls away from the heel. This stretching of the plantar fascia is common among people who have flat feet, but people with unusually high arches can also develop this problem. Heel spurs are especially common among athletes who do a lot of running and jumping. Also, women who wear high heels have a significantly higher incidence of heel spurs. Still, it can happen to anyone.
Causes
A major cause of heel spur pain comes from the development of new fibrous tissue around the bony spur, which acts as a cushion over the area of stress. As this tissue grows, a callus forms and takes up even more space than the heel spur, leading to less space for the thick surrounding network of tendons, nerves, ligaments and supporting tissue. These important structures in the foot have limited space because of calcium or tissue buildup, which leads to swelling and redness of the foot, and a deep throbbing pain worsened with exercise.
Symptoms
Heel spurs often cause no symptoms. But heel spurs can be associated with intermittent or chronic pain, especially while walking, jogging, or running, if inflammation develops at the point of the spur formation. In general, the cause of the pain is not the heel spur itself but the soft-tissue injury associated with it. Many people describe the pain of heel spurs and plantar fasciitis as a knife or pin sticking into the bottom of their feet when they first stand up in the morning, a pain that later turns into a dull ache. They often complain that the sharp pain returns after they stand up after sitting for a prolonged period of time.
Diagnosis
The diagnosis of heel pain and heel spurs is made by a through history of the course of the condition and by physical exam. Weight bearing x-rays are useful in determining if a heel spur is present and to rule out rare causes of heel pain such as a stress fracture of the heel bone, the presence of bone tumors or evidence of soft tissue damage caused by certain connective tissue disorders.
Non Surgical Treatment
Treatment of heel spurs is the same as treatment of plantar fasciitis. Because these problems are related, the treatment is the same. The first step in the treatment of a heel spur is short-term rest and inflammation control. Here are the steps patients should take in order to cure the symptoms of plantar fasciitis and heel spurs. Avoiding the activity that caused the symptoms is the first step in treatment. For example, take a few day off jogging or prolonged standing/walking. Just resting usually helps to eliminate the most severe pain, and will allow the inflammation to begin to cool down. Icing will help to diminish some of the symptoms and control the heel pain. Icing is especially helpful after a sudden flare up of symptoms. Exercises and stretches are designed to relax the tissues that surround the heel bone. Some simple exercises, performed in the morning and evening, often help patients feel better quickly. Many patients will work with a physical therapist, or you can try some simple activities on your own. If you need some help, meet with a therapist for a few sessions to learn a program you can continue on your own.
Surgical Treatment
Surgery, which is a more radical treatment, can be a permanent correction to remove the spur itself. If your doctor believes that surgery is indicated, he will recommend an operation - but only after establishing that less drastic methods of treatment are not successful.
Prevention
You can help prevent heel spur symptoms from returning by wearing the proper shoes. Customized orthotics and insoles can help relieve pressure. It is important to perform your exercises to help keep your foot stretched and relaxed.